Office Space at East Lane Business Park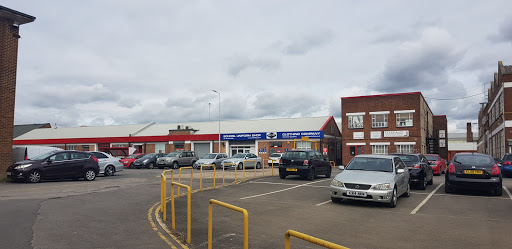 East Lane Business Park is a commercial real estate development located in Wembley, London. The site has been developed to a total size of 36 acres and consists of multi-purpose industrial, warehousing, and storage units.
Nearby amenities include supermarkets, petrol stations (the nearest one being only a couple minutes' drive away on East Lane), bakeries, and restaurants.
Along Preston Road there are medical centres and pharmacies, but the largest commercial area within close proximity of the park is in Wembley Central, which is 1.5 miles to the south of this business park.
Commercial space at the park is available on a variety of terms, from short lets to conventional long leases including flexible rental agreements.
Space For Rent At East Lane Business Park
Several types of commercial real estate are available at East Lane Business Park.
Warehouse units usually range size from 2,000 to 3,000 square feet, but larger units are also available. Average annual rental rates for warehouse space go just over £30,000 for a medium-size unit to more than £83,000 for warehouse units of 10,000 square feet. This type of space features amenities and facilities including side doors, roller shutter access, dedicated loading bays, office space, bathrooms, parking space, and 24/7 security. Units are accessible around the clock.
Office space is also part of the commercial real estate offer at East Lane Business Park. Office plates go from 150 square feet to over 2,5000 square feet and are available in low-rise buildings located in a gated area. Secure storage space is also available, as are on-site containers with capacities ranging from 20 to 40 feet.
Main Commercial Tenants
Occupiers of industrial and commercial premises range from uniform retailers to hairdressers, and include computer parts suppliers, wholesale food distributors, glass and mirror shops, auto repair and maintenance services. As for occupiers of office space, they are mostly small businesses involved in the professional services sector, such as legal firms, graphic designers, sign writing and vehicle graphics companies, and travel agents.
Location
The park's full address is:
East Lane Business Park
Lumen Road
Wembley HA9 7RE
London
Getting to East Lane Business Park Using Public Transport:
The park is located half way between 2 London Underground stations. North Wembley station is just under half a mile away to the south of the park, and South Kenton station is 1.5 miles north of the park. Both stations are on the Bakerloo line, which connects the park with South London and Harrow, stopping at major stations like Charing Cross (for trains to Dartford, Hastings, Sevenoaks, and Dover), Piccadilly Circus, Waterloo (for trains to the South East), and Paddington (which has rail connections to Heathrow airport and several cities in Berkshire). Both stations also serve National Rail trains and are a stop for London Overground services. There is also a Metropolitan Line station 1.5 miles away (Preston Road station), which offers links with The City of London, Watford, and with suburban locations along the M25.
Getting to East Lane Business Park by Road:
East Lane Business Park is located approximately 3 miles away from the A406 road, also known as North Circular Road, which offers access to the M4, M1, A1, and M11 roads, among many others. Distance to central London is approximately 10 miles, and distance to Heathrow airport is 20 miles.