Office Space in Luton at Butterfield Business Park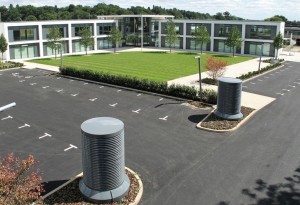 Butterfield Business Park is an office development built in 2007 and developed in the Butterfield Green area of Luton. The park has a total area of 90 acres total and commercial space amounts to 250,000 square feet. The park was created to boost the local economy, capitalising on Luton's strategic location near an international airport and major distribution and logistics hubs, as well as to offer business owners high-quality and bespoke commercial real estate.
The park was developed by Henry Boot Developers and its current agents are Cushman & Wakefield and Lambert Smith Hampton. Following its completion in 2007, a second phase of development started in 2015, and in 2019 45 acres were still to be developed. As of early 2019, Butterfield Business park was home to an innovation centre, a research and development facility occupying 100,000 square feet, the Office Business Village, and a three star hotel.
The project has been so successful that further expansion is planned. Planning approval was granted in 2018 and work started in early 2019. The project's completion date was set for the autumn of 2019, when a further 83,000 square feet of commercial space are expected to be added to the park's current stock. Within the expansion plans is also the delivery of more than 600,000 square feet of space for employment purposes on a design and build basis. Once fully developed, Butterfield Business Park is expected to have 1 million square feet of space, becoming the largest development of its kind in the area.
Amenities
Amenities at Butterfield Business Park include car parking space, an EV charging station, an on-site cafe in the section of the park devoted to office space, and a Hilton Garden Inn hotel, equipped with 157 bedrooms and business facilities, including ten meeting rooms and conferencing facilities for up to 250 people.
Commercial Real Estate
Commercial real estate space at Butterfield Business Park consists of a mix of industrial, distribution, and warehousing units. Unit sizes range from 15,000 square feet to 100,000 square feet. Space is let on both freehold and leasehold basis, and design and build office space will be available starting in autumn 2019.
Existing office space is offered at The Village and at Basepoint Business Centre, which have high-quality office units ranging from 834 square feet to more than 18,000 square feet. Self-contained office units of up to 12,000 square feet are also available. At the time of writing, a total of seven two-storey buildings were allocated to office space, many of which offered campus-style office accommodation.
Office Space Specifications Include:
- Full access raised doors
- Full height glazing
- Automated windows
- Environmentally friendly eating and cooling systems
- An Excellent BREAAM rating
- Bike shelters
- DDA compliant space
- Fibre optic-enabled
- Shower facilities
Industrial Space Specifications Include:
- Single bay portal frames
- 24-hour access
- Allocated parking
- First floor ancillary offices
- Bicycle racks
- Clear internal height of 6 8 metres
- The option to merge, combine or divide units if larger floors required
- A Good BREAAM rating
Key Occupiers
The largest occupiers based at Butterfield Business Park are Eaton R&D, Luton Basepoint Business Centres, McCann Erickson, The University of Bedfordshire, Fuji Sonosite, Total Oil, Royal Bank of Scotland, Vauxhall, TUI, EasyJet, and Hayward Tyler.
Butterfield Business Park Location
Butterfield Business Park's address is:
Butterfield Business Park
LU2 8DL
Luton
Bedfordshire
Getting to Butterfield Business Park by Road:
Butterfield Business park sits on the A505 road near the Lilley intersection. The M1 road is approximately 5 miles away, and the A1 is also easily accessible to the A1, as is the M25, located 10 miles away. Distance to Luton town centre is 4 miles, and distance to Luton airport is 4.5 miles. The park is within a 1.5-hour drive from every London airport.
Getting to Butterfield Business Park Using Public Transport:
The nearest train station is Luton Parkway, located 4 miles south of the park. The station is on the railway line that connects Luton with London, Gatwick airport, Brighton, and several cities in the East Midlands. The park is also served by city bus services that stop right outside the main entrance and link the park with Luton, Hemel Hampstead, and Stevenage.