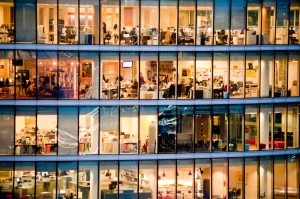 Serviced offices can help businesses thrive, especially smaller businesses that have limited finances and want a cost-effective and professional space to operate. Whether as a temporary space or for longer-term use, serviced office spaces are often attractive to start-up and newer businesses, especially smaller businesses. The following outlines a few of the benefits that serviced office accommodation can offer businesses.
Simplified Expenses
A serviced office space simplifies budgets with a single bill. These types of offices typically offer an all-inclusive bill each month. The single bill covers a range of expenses, including rent, shared support services, office maintenance, heating and other utilities. With fixed costs and consolidated billing, businesses are able to budget more easily and save on accounting time. There are also no nasty surprises with higher than expected bills or unexpected costs.
Flexible Conditions
One of the most important advantages of serviced office accommodation is flexibility, both in terms of contracts and payment. Many of these facilities offer occupants flexible contract terms, including month-to-month options that ensure businesses are not tied down by a long-term contract. This means businesses can expand at their own rate and be free to move to a longer-term or more permanent arrangement once they have established themselves. Flexible contracts also allow companies to downsize in order to respond to business needs of the day.
Professional Space
Many small businesses operate from home. A serviced office provides a space to conduct business in a professional setting with convenient supports that help you conduct business effectively. This allows small business owners to separate their home life from their work. Serviced offices located in every setting, including rural areas. In many cases, serviced offices are located in prime location close to major transportation links or a city centre. That means business owners can easily find a space that is close to home without having to work from home.
Most serviced office centres and parks also feature shared professional support services, including common reception areas where on-site staff take calls, greet and direct visitors, and sort or direct mail. These professional services make doing business easier. They also project a professional image to clients and other visitors, and they save businesses costs related to hiring support staff.
All Inclusive Services
Another major advantage of serviced offices is that everything is pretty much taken care of, from cleaning to building security. This means businesses save money and never have to worry about managing contracts for different types of services that would be the case in an un-serviced property. With the extra time and fewer hassles, companies can focus on their own business.
Property managers at serviced offices provide a range of services, including offering shared reception and secretarial support services. Other common services include security, cleaning services, and maintenance work. The property's customer service team also provides a range of other supports, such as IT support. Businesses also have access to shared state-of-the-art technology, including conferencing and audio-visual equipment. This access means businesses do not have to buy or rent their own equipment, which will help save money in the long run.
Convenient Amenities
Serviced offices provide a range of amenities that are attractive for employees and help with day-to-day business needs. Common amenities include kitchens, meeting rooms and on-site parking. In some offices, shared facilities such as meeting rooms are provided on a pay-per-use basis in order to keep costs down. Other serviced office sites may feature additional amenities, such as a café, fitness centre and other recreational facilities. These types of facilities are often attractive when prospective employees are considering a company. They are also useful when organising meeting with clients and other stakeholders.