Offices at Cobalt Park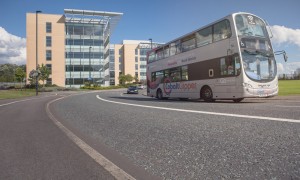 Cobalt Park is a large-scale office park and the largest of its kind in the United Kingdom. Preparation for this project began in 1996 and construction work started 2 years later. The project was completed in 2002 thanks to the joint effort of local developer Highbridge Properties, engineering firm Cundall, and Ryder Architecture.
This office development is located in a strategic location within easy reach of major roads like the A1 and A19, and was created with a focus on flexibility, so that space available would be able to accommodate future expansion. Cobalt Park was built in a designated Enterprise Zone, created to promote economic growth while offering financial incentives to developers and occupiers.
The development exceeded all expectations in terms of what it could represent to the local economy and business community. At the time it was built, estimates suggested it could help create 5,000 jobs, a significant number in the North East. However, by 2016 the park provided more than 14,000 jobs and that figure is expected to reach or even exceed 20,000 in years to come.
Overall, this has been an extremely successful project that has contributed to the revitalisation of an area traditionally affected by high unemployment levels. Cobalt Park was given an Excellent BREEAM rating in recognition of the project's sustainability performance, and has received several awards, such as Best Large Commercial Building and Best Commercial Workplace, as well as being a finalist for multiple North Tyneside Business Awards.
Cobalt Park Office Space
Cobalt Park is a 250 acre site with nearly 30 buildings and 2 million square feet developed for commercial and office use. Office space at Cobalt Park is suitable for businesses of all sizes, since office plates range from 5,000 to 250,000 square feet.
Offices at Cobalt Park are in high demand and have high occupancy levels of nearly 90 per cent. All units are built in open plan style and fully DDA compliant. Virtual offices are also offered by some of the occupiers at Cobalt Park. Those looking for flexibility in their leases also catered to at Cobalt Park, since short term office accommodation is available under flexible terms. Serviced offices and meeting rooms equipped with top of the range IT and telecommunications infrastructure are also on offer.
Amenities
Amenities at Cobalt Park include a day nursery, a clinic, a four-star hotel and leisure club with business meeting facilities, and a biodiversity park covering 39 acres. Parking space is provided free of charge, with a parking ratio of 1 space for every 23 square metres.
Apart from the on-site amenities, the park is conveniently located near supermarkets, medical facilities, restaurants, cinemas, golf courses, and recreational landmarks. Cobalt Park was designed to be not just a place to work, but also a community, so there is a full calendar of events and activities ranging from nature walks to massage, netball tournaments, evening courses.
Key Occupiers
Thanks to its privileged location and high quality space, Cobalt Park has attracted a large number of corporate occupiers, which make the bulk of the park's tenant base. Some of the largest and most well known occupiers include Accenture, Santander, Newcastle Building Society, Leeds Building Society, Procter & Gamble, IBM, Siemens, Barnardo's, North Tyneside Council, and Jaguar.
Offers and Discounts
Cobalt Park staff enjoy benefits afforded by MoreCard, which gives access to deals on leisure and entertainment, and discounts on services ranging from car servicing to gym membership and including public transport, food and drink, holidays and travel.
Cobalt Park Location
The park's full address is:
Cobalt Park
4 Silver Fox Way
Newcastle upon Tyne NE27 0QJ
The management office phone number is 0191 257 6457
Email: enquiries@cobaltpark.co.uk
Cobalt Park's management office is open from Monday to Friday from 8 a.m. to 5 p.m.
Getting to Cobalt Park
Distance to Newcastle city centre is only 8 miles. Newcastle airport is only slightly further away at 15 miles, approximately a 15-minute drive from the park. The nearest light rail station is Northumberland Park, located approximately 1 mile away, and there is a shuttle bus connects the park with the station. Moreover, there are 10 bus lines that directly connect the park with the city centre and with nearby urban centres like Gateshead, South Shields, and Tynemouth. In total, the park is served by approximately 30 buses per hour. Access by bicycle is also possible, since the park is located along a designated bike route, the North Tyneside Waggonway Cycle Network.