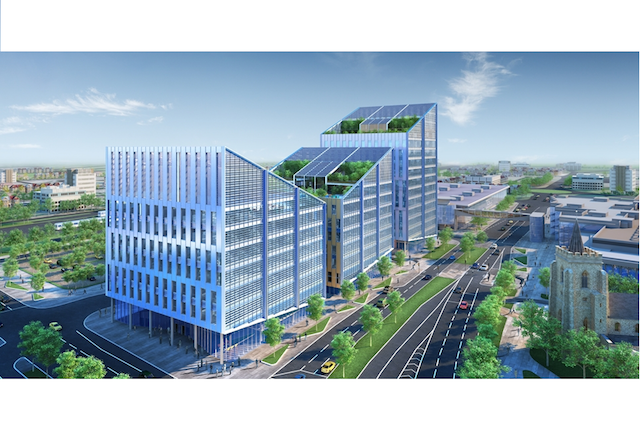 For several years, the town of Slough has been one of the most productive and dynamic business hubs in the South of England. This Berkshire town boasts higher-than-average business birth rates and benefits from as strategic location along the M4 corridor and within easy reach of London (1).
What is the Heart of Slough Regeneration Project?
The Heart of Slough Regeneration Project is a large-scale urban development plan that was created to capitalise on the town's strengths and to attract higher levels of investment to this part of Berkshire (2).
Overview of the Heart of Slough Project: Rationale and Context
The Heart of Slough regeneration project builds on a number of existing and future opportunities taking place in this Berkshire town. In terms of the existing opportunities, we must mention the town's key role in the Thames Valley economy, given Slough's high concentration of businesses in high-value sectors (3).
Future opportunities driving this regeneration project include the arrival of Crossrail services to Slough, which is initially expected to take place in 2018. This important infrastructure development will translate into faster rail connections with the capital city, reducing travel time between Slough and central London to only 30 minutes. In addition, rail links between Slough and Heathrow airport will also be significantly improved upon the completion of the Western Rail Access project, which will reduce travel time between the city and the airport to just 6 minutes. This project should be completed by 2021, and work is expected to start in 2017 (4).
These infrastructure improvements are not only important in their own right, but are also directly related to Slough's potential for economic growth, as business analysts have already predicted that the city is likely to become a property hotspot thanks to its improved transportation links. (5)
Heart of Slough Regeneration Project: Key Figures
Building on Slough's opportunities for growth, the Heart of Slough project will focus on the creation of a commercial quarter covering an area of approximately 3 hectares. The project has been modelled on urban regeneration projects that have already proven successful in other parts of the United Kingdom, and will consist of a mixed-use development that will add tens of thousands of square metres of residential and commercial space to the town's current inventory. All in all, it is expected that 1,600 new homes will be built in the area, and 70,000 square metres of Class A office space will be made available over the next 6 years in what is considered a prime location (next to the Crossrail station). This development is expected to alleviate the shortages of quality office space that have affected the local commercial real estate market since 2011.
In addition, the Heart of Slough regeneration project will result in the construction of a new bus station, new leisure and retail venues, and a cultural centre called The Curve, which will also play an educational role in the local community (6). The Curve will have a capacity of 4,500 square metres and will consist of a library, arts and performance space, a cafe, and a museum, as well as dedicated learning space and IT facilities (7). The site where the town's old library was located will be redeveloped into a hotel, whereas the leisure facilities at Montem Place will be turned into a residential development (8). To replace the old facilities, a bigger leisure centre will be built on Farnham Street and will house a swimming pool, a gym, and a sports injury clinic, among other facilities (9).
Moreover, this regeneration project will help raise local employment levels, as it is expected that it will help create approximately 4,800 permanent jobs and nearly 500 temporary jobs. The commercial development at Brunel Place alone will create 1,000 jobs by 2018 (10). Brunel Place is considered the flagship development within this regeneration project, as it will release 358,000 square feet of high-quality and energy-efficient office space into the local market. The project will consist of three separate office buildings and has already attracted investment for the value of £200 million (11).
It is expected that the Heart of Slough Regeneration project will be completed between 2021 and 2022.
Sources:
(1) http://www.thisismoney.co.uk/money/smallbusiness/article-2746977/Slough-emerges-unlikely-birthplace-Britains-new-businesses.html
(2) https://www.gov.uk/government/publications/regeneration-project-heart-of-slough-commercial-quarter-gdv-290m/regeneration-project-heart-of-slough-commercial-quarter
(3) https://www.ft.com/content/2ff60718-d00d-11e5-92a1-c5e23ef99c77
(4) http://www.slough.gov.uk/parking-travel-and-roads/western-rail-access-to-heathrow.aspx
(5) http://www.galliardhomes.com/investor-information/investor-guides/guide/why-slough-is-the-next-property-hotspot
(6) http://www.sloughmeansbusiness.co.uk/living-in-slough/
(7) http://www.slough.gov.uk/business/regenerating-slough/the-curve.aspx
(8) http://www.sloughmeansbusiness.co.uk/blog/slough-prepares-for-450m-uplift/
(9) http://www.slough.gov.uk/business/regenerating-slough/the-vision-for-leisure.aspx
(10) http://www.sloughobserver.co.uk/news/14446062.More_jobs_with_work_on_commercial_hub_started/
(11) https://www.insidermedia.com/insider/southeast/ashbycapital-to-fund-major-slough-scheme