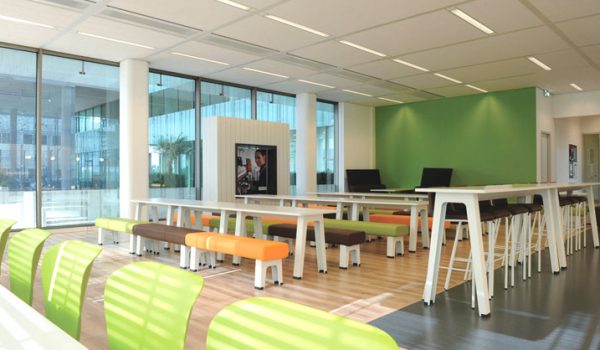 Until very recently, the concept of flexible workspace was perceived as a niche sector of the commercial property market that mainly catered to freelancers, remote workers, and small start-ups. However, this understanding of flexible workspace seems no longer accurate in view of recent trends that show how this type of office space is becoming increasingly attractive to large corporations.
In a relatively short period of time, we have witnessed how blue-chip corporations like HSBC, KPGM, and Microsoft have acquired flexible workspace in London and incorporated it into an important part of their corporate culture. Since 2012, more than 4.5 million square feet of flexible office space have been taken up across the city. Other reports confirm the unstoppable growth of this type of commercial real estate in the British capital, as some of the main providers are already worth millions of dollars, and flexible workspace now accounts for 25 per cent of the portfolio of some traditional office space providers.
Whereas in the past offices we mainly workplaces, recent trends show that a qualitative change is taking place with regards to how flexible office space is perceived by occupiers, both large and small. On the one hand, the gig-based economy continues to be one of the main drivers behind the growth and popularity of flexible workspaces, but corporates are also adopting a different mind-set and are increasingly viewing this type of space arrangement a viable and beneficial option. For many office occupiers, office space is no longer a place of work. Instead, it is seen as a place where opportunities for growth arise, and also as spaces that generate value.
It is also interesting to note that corporates do not simply view themselves as passive occupiers, but many are investing in creating their own flexible workspaces. In doing so, they reinforce the forward-looking aspect of their corporate image and present themselves as companies willing to invest in innovation. For instance, The Office Group (TOG) has built its own collaborative space in east and west London based on the understanding that this arrangement maximises efficiencies and facilitates a working model focused on productivity and human capital.
This trend is not only evident in London, but is taking on a global flair. Silver Suites recently moved into a 30,000-square feet flexible office development at 7 World Trade Center (New York). The move was described by its CEO as "a path for growth" that is expected to play an active part in the revitalisation of the local business community.
In the near future, the acquisition of flexible workspaces may well stop being a trend to become part and parcel of the occupier's corporate identity. Corporations are moving towards better understanding of the benefits involved in investing in flexible workspaces, namely, a diversification of the occupier mix that makes them are better prepared to face risks and the cyclical performance of the commercial real estate market.
Some go as far as claiming that the characteristics of the employment market will render traditional workspaces redundant by 2030. The sharing economy will do nothing but grow, and with its expansion will come a transformation across all industry sectors. The future world of work will most likely bring changing perceptions in the way workspace is conceptualised and used, and these changes will go hand in hand with a very noticeable growth in demand for flexible workspaces that suit a flexible workforce.
As a result of the cultural and organisational changes that are currently transforming the corporate world, soon traditional and flexible office spaces will no longer be seen as opposites, but rather as complementary options that can go a long way in meeting the needs of corporations and their employees.
Sources:
(1) http://workplaceinsight.net/take-flexible-space-confirms-londons-position-global-coworking-pioneer/
(2) http://obiproperty.co.uk/the-growth-of-flexible-office-space/
(3) https://www.ft.com/content/c8255158-fffe-11e5-ac98-3c15a1aa2e62
(4) http://startups.co.uk/tog-free-office-space-100-start-ups/
(5) https://www.wtc.com/media/news/spi-launches-silver-suites-offices-at-7-wtc
(6) http://www.cbre.com/research-and-reports/future-of-work
(7) http://workplaceinsight.net/26254-2/
(8) fm-world.co.uk/news/fm-industry-news/more-growth-expected-in-flexible-office-space-take-up/
Save