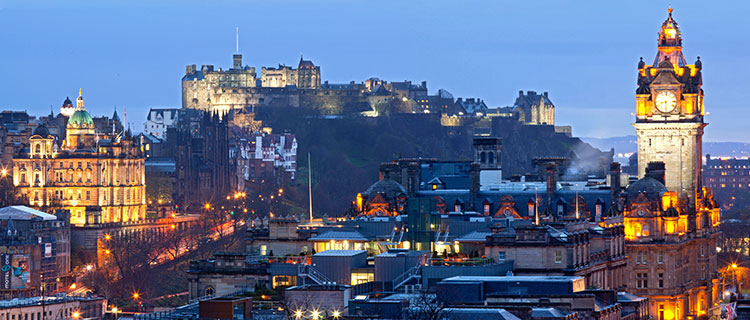 Edinburgh has a thriving economy whose diversity and scope for growth attracts FTSE 100 companies and other large firms mainly in banking, insurance, finance, media, and technology. Since all these are office-based industry sectors, the demand for office space in the city is robust, and in fact Edinburgh is one of the six most important commercial property markets outside London. But how does demand affect office rental values in this Scottish city? Read on to find out.
Trends Affecting Office Rental Prices In Edinburgh
The TMT sector has recently become the most important forces driving the growth of the local office market. During the first three months of 2017, this sector accounted for nearly 33 per cent of all office take-up in the city. Education is another key occupier of office space in the city, mainly due to the presence of four prestigious universities.
With increasing demand from high-growth sectors comes diminishing availability, so scarcity may become drive office rental prices up within the next couple of years. Moreover, a considerable amount of lease expires in the 2017-2018 period is likely to cause spike in average rents. While rental increases are not expected to be too drastic, they may exceed the £35 / square foot mark by the end of 2017.
Edinburgh Office Prices By Area
According to researchers at Knight Frank, headline office rents across the city average £33 / square foot. Incentives like rent-free period of 18 months for 10 year leases are common, which brings the net effective rental value down to £28 / square foot.
In the city centre (where office take-up rates typically average 115,000 square foot per quarter) the market is characterised by a very limited supply, especially in core locations like Quartermile and Charlotte Square, where rents exceed £30 / square foot.
A noticeable rental differential exists between city centre and out-of-town offices. The cost of the latter ranges between £14 and £20 / square foot, with £17 being average. However,  in the next couple of years £20 / square foot may become the norm for out-of-town properties. Changes in demand and availability mean that rental values are likely to rise, since an increasing number of occupiers are willing to consider an out-of-town location after not being able to find suitable space in the city. The most in-demand locations for this type of office space are Edinburgh Park and South Gyle Business Park.
Edinburgh Office Prices By Property Type
During 2016, the Edinburgh office market experienced similar take up rates of Grade A and Grade B space . Currently, there are only 365,000 square feet of Grade A space available, and the already pricey rental rates are expected to keep increasing. Some Grade A office (such as those in the Atria One development) have achieved record-high rents of £33 / square foot. However, Grade A offices north of the Old Town (for instance in the EH7 area) are priced as low as £12.50 / square feet. The cost of Grade B and refurbished offices varies depending on location, and it is possible to find reasonably priced properties (£15 / sq ft) in Leith and areas north of Saint Andrew Square.
Coworking and shared office space usually starts at £240 / desk / month, going up to £360 / desk / month for higher priced packages that include access to meeting rooms, IT assistance, storage, and other perks. Fixed desks in shared offices average £250 to £290. Lastly, serviced and managed offices in the city centre are usually priced at £250 / desk, whereas in adjacent areas (such as Leith) they start at £130 per desk. In the EH3 area, serviced offices can be found under £130 / person / month, and in more exclusive areas, like Haymarket, they can go up to £550 / person / month.
Sources:
(1) https://sbnn.co.uk/2017/04/20/tech-media-telecoms-rise-edinburgh-early-2017/
(2) http://scotlandb2b.co.uk/2017/03/24/tech-firms-lead-edinburgh-office-takeover-heres-why/
(3) https://kfcontent.blob.core.windows.net/research/1148/documents/en/2016-4112.pdf
(4) http://www.gva.co.uk/uploadedfiles/GVA_UK_Research/2017%20Big%20Nine%20Q1%202017.pdf
(5) http://www.eyco.co.uk/news/news.php?id=248
(6) http://pdf.euro.savills.co.uk/uk/office-reports/spotlight-scottish-office-may-2016.pdf
(7) http://www.cushmanwakefield.co.uk/en-gb/research-and-insight/uk/edinburgh-regional-office-report/
(8) http://pdf.euro.savills.co.uk/uk/office-reports/spotlight-scottish-office-may-2016.pdf
(9) https://codesk.uk/
(10) http://www.themeltingpotedinburgh.org.uk/coworking-in-edinburgh/fixed-desks/
(11) http://www.edinburghoffice.co.uk/locations/